Tyler Watamanuk
is a New York-based writer and producer. Currently, he is a contributing style writer at
GQ︎︎︎
(formerly at
Complex
) and writes the design newsletter,
Sitting Pretty︎︎︎
. (He previously wrote a column of the same name for
Garage Magazine.
)
He is working on a book about streetwear for Simon & Schuster (2023) and contributed text to
The Men's Fashion Book︎︎︎
(Phaidon, December 2021).
His writing has also appeared in
The New York Times
,
The Wall Street Journal
,
Architectural Digest
,
Vice, Playboy
,
McSweeney's Internet Tendency
,
032C
, and others.
To get in touch, just send him an
email︎︎︎
.
Back to the
︎︎︎home page
.
Select Publications

The New York Times
The Wall Street Journal
GQ
Architectural Digest
Vice
Playboy
McSweeney's Internet Tendency
032C
SSENSE
i-D
Garage
Highsnobiety
Curbed
Munchies
Saveur
Men's Health
Complex
Soft Punk




I have over a decade of experience working on award-winning advertising campaigns, creative branding, and digital experiences.

Most recently, I was a senior producer at Firstborn, a digital agencyin New York City, where I worked for the eight years. My time there saw me leading cross-disciplinary teams to produce rich interactive experiences, innovative ad campaigns, culture-driven content, and digital-first branding.

Prior to Firstborn, I worked at other agencies and in-house as a digital marketer, creative strategist, copywriter, and designer. (In that order, too.)
These days, outside of my writing, I'm focused on one-off creative projects and consulting gigs that combine the worlds of advertising, culture, and design. I work with brands and agencies big and small to bring a sharp voice and impactful perspective that they might not have in-house.




Creative Services: Brand Consulting and Strategy, Campaign Concepting, Copywriting, Tone of Voice, Editorial Strategy, Project Planning

Awards: Clio, AdWeek Project Issac, Digiday Glossy, FWA, Awwwards

Clients: Adidas Originals, Playstation, Pepsi, Mountain Dew, Prada, Ralph Lauren, Ugg, Kiehl's, Clash of Clans, American Express, Grailed, Calvin Klein, Diesel, and others.

Select Projects: Adidas NMD and Hardcourt Transmission Pack Launch, Adidas x Champs Sports "Camo" NMD Launch, Adidas NMD FW17 Launch, Pepsi.com Re-Design, Clash Royal E-Sports, Mtn Dew x NBA Interactive Bus Shelter, Mtn Dew x Titanfall "Fuel Your Titan" Campaign




Timberland's Green Giant

Publication: Men's Health
Year: 2019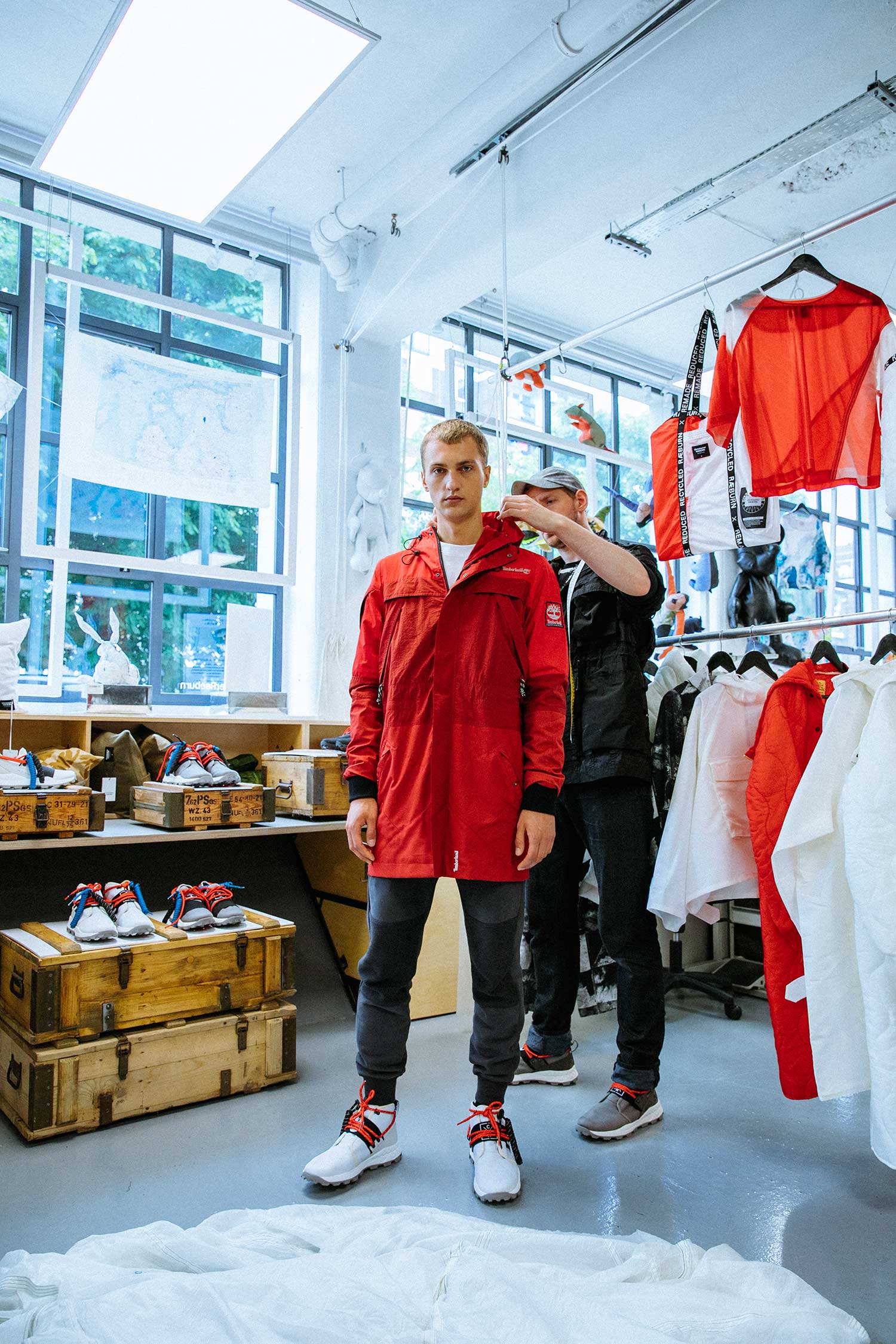 ---

CHRISTOPHER RAEBURN sees well-designed, sustainable fashion as a Trojan horse. He wants to create clothing so good-looking, so desirable that the customer doesn't notice the recycled materials and eco-friendly production that goes into it. It's an idea that plays against our preconceived notions of environmentally conscious fashion. Eco-minded clothes have a long history of looking, well, like hand-me-downs. But with capital-S sustainability at the forefront of many a brand's mission these days, more clothes that are actually stylish are being made with the environment in mind. How companies go about it varies, from recycling old products into new (like Patagonia) or using less water in their washing (like the Gap).

Making clothes that are responsibly produced and sophisticated enough to appeal to both eco-warriors and the straight-up stylish is Raeburn's specialty. It's what propelled the 37-year-old Brit from Royal College of Art graduate to independent designer to, as of late last year, Timberland's first creative director, thanks to his eco-can-be-great-looking skill set.

Timberland has been around since the 1950s, initially producing workwear for blue-collar New Englanders. The brand's wheat-colored boot shows up everywhere from concrete corners in Brooklyn to the boat docks of Maine. Given the boot's universal crossover appeal, there might not be a company better suited than Timberland to bridge the divides among function, sustainability, and style. That's where Raeburn comes in. The designer has signed on to produce a full line of clothes and boots that are utilitarian yet fashionable—with sustainability at the center of it all.

"I'm really engaged and excited about what a difference I can bring personally and what a difference Timberland can make globally," he says of his role. His namesake label, which is still independently owned and operated, has long existed in fashion's sustainability niche. His first collection, shown at London Fashion Week in 2008, contained outerwear constructed from a single parachute. That type of high concept, limiting his materials to the recycled, became his signature.

Today, sustainability no longer rests in fashion's more esoteric corners. It dominates mainstream conversations across the industry, whether negative (Burberry admitting to burning nearly $37 million in unsold stock last year) or positive (American designer Heron Preston steering the booming streetwear industry towards sustainability; Raeburn starting a new chapter for one of the country's most recognizable brands).

Always something of an outdoorsman, Raeburn grew up in a small village in Kent, England, and joined the Royal Air Force Air Cadets before he was a teenager. An appreciation for the environment and innovation wove itself into his fashion career. Now it's the cornerstone of his leadership for an apparel and footwear brand with more than a hundred flagship stores worldwide.

"It's almost just common sense," Raeburn says. "We do want to do everything we can to minimize our impact, and we also want to make beautiful objects that put craft and creativity at the heart of everything we are doing."

It's worth mentioning that Timberland is no stranger to sustainable design. In 2007, the brand set out to make the most environmentally responsible boot it could. The result was the Earthkeeper, featuring recycled plastic and rubber. Back then, it was pretty unheard of for a company that size to do such a thing. Eighty-four percent of its footwear includes at least one component with recycled, organic, or renewable content. It's a start, but neither Timberland nor Raeburn is content with stopping there.

How do you give eco-friendly clothes "must-have" appeal? Raeburn knows people turn to Timberland primarily for tough, longlasting gear and that the brand's iconic six-inch boot rivals Nike's Air Force 1 or Supreme's box logo on the hip-hop and streetwear scenes. His newest designs for the label rely on ambitions, cutting-edge concepts yet remain accessible and wearable enough for the average guy.

Sure, more people are shopping with an eye toward the environment, but the clothes still need to hark back to Timberland's most beloved offerings. So a forthcoming Timberland x Christopher Raeburn collection will feature neon orange and olive green patchwork, made from original Timberland pieces and decommissioned military parachutes. (The use of parachute material is a nod to Raeburn's debut collection.)

"I think it's important to respect that past and acknowledge the love that this brand has," says Raeburn. "The exciting thing for me is how can you respect that past but evolve things, challenge things, and disrupt things in the right way. Ultimately, I need to make sure that we are always moving forward." That means creating great clothes while making real, lasting change at one of America's great legacy brands. Says the guy who can turn a parachute into enviable garments. ■